Jus Jones with the RIP JB Mix.
I feel a lot of people are not playing enough James Brown these days. Right on Jus for lacing this one for my ears. There's rare live versions of Mr. Hardworking in the mix that is worth the listen. Straight FIYA! Peep a Listen
HERE
See you on the lanes tomorrow.
Team Ri$ky is gonna be locked and loaded for tomorrow's event, "KINGPIN BOWLING"
We've been practicing! You might be able to see us do this trick shot.
2007: The Cinematic Year of Anton

Better put Anton aka Ant-1 in that piece. Haha
(Taken from Slashfilm.com)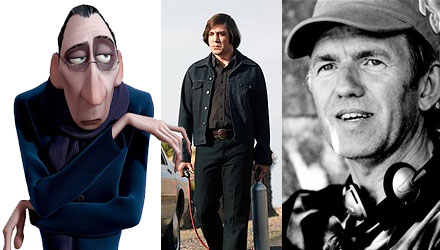 Every year new names become popular. Cinemascopian points out that 2007 has had three films featuring lead characters with the unusual name of Anton:
Anton Ego, "Ratatouille"
Anton Corbijn, "Control"
Anton Chigurh, "No Country for Old Men"
Juno
Two Thumbs up for "Juno" from me. Directed by Ivan Reitman's Son, Jason Reitman. The son of a Man who directed another personal favorite of mine, "Ghostbusters". Good family business those guys have. Jason Reitman also directed "Thank You for not Smoking" as well, which is another movie I recommend you to watch. Another interesting tid bit is that the screen play was written by first time screen play writer, Diablo Cody, who's previous job before this was stripping. Hardworkers.
My Favorite Sports moment of 2007 is "Time out in Baron's House."